The story of Bill & Steve is lifetime friendship and partnership. Going all the way back to Mrs. Martel's first grade class at St. Augustine's School, where they met as two goofy six-year-olds and began what would turn into the lifelong friendship they have today. "To be honest, Bill is more like my brother than my friend," Steve says. Bill is godfather to Steve's daughter and their kids have called them "Uncle Steve" and "Uncle Billy," respectively, since they were just old enough to talk. (And now Steve's son Zack and Bill's son Liam have worked together on the job site a few times!)
Cote & Foster truly began when Steve decided to attend high school at Greater Lawrence Tech and study carpentry, like Billy and few other guys. "Thinking about it back then, I didn't want to job someday sitting in office. I always liked working with my hands," Steve says. "Being good friends and being able to work so well together," Billy always says, "it seemed natural to try to do this."
After graduation, they went on to major in civil engineering at Northern Essex Community College. Classes were Monday, Wednesday, Friday, and took jobs on Tuesdays and Thursdays building decks, porches and mantels, among others. It really cool to think that today, those kind of jobs are considered small in comparison to completed since then.
The guys started out with humble headquarters in old car, makeshift office in Steve's mother's (Lorraine) basement and Bill's mother (Barbara) answering phones for them. The check from "real" job went directly back in business, towards the purchase of more tools.
After some years, they eventually were able to find a commercial space on Water Street in Lawrence to set up headquarters and have enough space for the trucks they needed. "Definitely an upgrade from borrowing my dad's basement, but there was still room for improvement. There always is," Steve says. From acquired their current space of Pelham St in Methuen, complete with sizeable office space, a workshop that spans two floors, and a garage for the cube vans, dump truck, and hydraulic lifts. More recently, Bill & Steve expanded their space into the unit next door, adding a conference room for meetings with subcontractors and clients alike.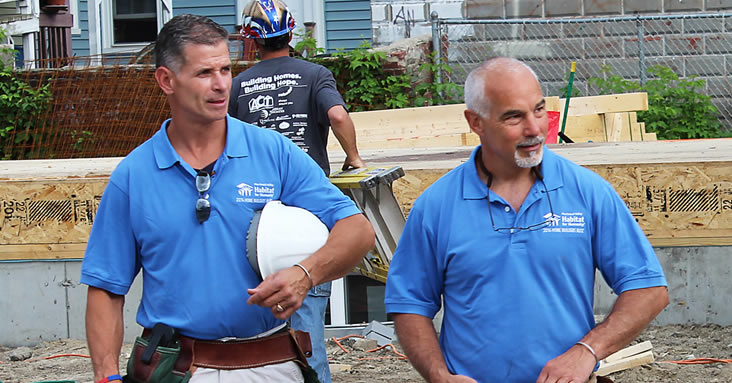 We all like to think of the crew as the Cote & Foster "family." Bill or Steve, or both of them personally visit each initial consultation to introduce themselves to potential clients and follow through scheduling, execution, and completion of the project. We believe (and have been told by our clients) that this personal touch and consideration for the clients by the owners of the company is something that sets us apart from others.